Your activity, your needs
Competitiveness and efficiency training
As we know, piloting a helicopter and its training are even more specialized than for a fixed wing aircraft … The strong requirements of quality, finesse and safety are obvious.
Reconciling the quality of the instruction, and of the helicopter fleet, with your safety commitments, your needs for optimizing operating and maintenance costs is sometimes a challenge …
Knowing that you must also stand out while remaining competitive
Flight data is the key to improving training and lowering your operating costs
The APIBOX designed by iAero is a global solution, unique on the market, for recording and processing flight data (data, audio and video). More than 100 flight parameters can thus be used and analyzed. And its debriefing software is incredibly effective for training helicopter flight schools.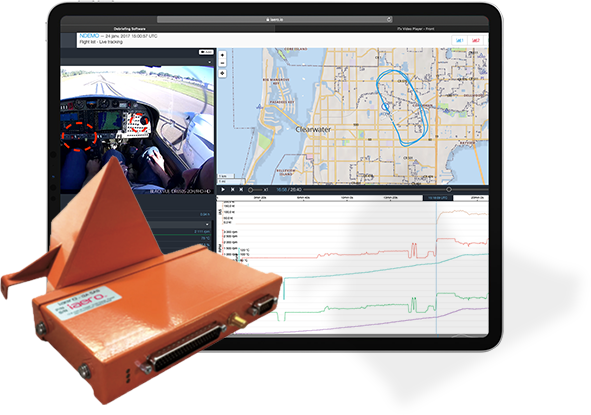 Characteristics of the APIBOX solution
Data recording and processing solution (flight and parameters)
Recording of audio and video data
Digital and analog instrumentation compatibility
Designed for general aviation and military aviation
More than 100 flight parameters managed and usable
Over 1000 hours of recording
Real-time data transmission (GSM / Iridium)
Crash and fire resistant (follow ED-155)
Small size, weight among the lowest on the market (2.2kg)
Debriefing and data analysis software
Recording of audio and video data
Digital and analog instrumentation compatibility
Designed for general aviation and military aviation
More than 100 flight parameters managed and usable
Over 1000 hours of recording
Real-time data transmission (GSM / Iridium)
Crash and fire resistant (follow ED-155)
Small size, weight among the lowest on the market (2.2kg)
More than 100 parameters managed and restored
Motor

Inlet pressure
RPM, N1, N2
CHT / TRQ
EGT / TOT
Oil temperature
Oil pressure
Fuel level and pressure…
Barometry


Indicated speed
Pressure altitude…
Pilot / co-pilot


Audio pilot
Co-pilot audio
Pilot marker
Co-pilot marker…
Cell


X / Y / Z acceleration
Roll, pitch and yaw speed
Position of the trims
Alarm panel: oil pressure, low fuel level, alternator …
Outside temperature
Position of control surfaces …
3D trajectory


Latitude
Longitude
Altitude
Ground speed
Road
Date
Time…
Many military flight schools integrate the APIBOX: