Your activity, your needs
Optimization of pilot training and use of flight data
The missions undertaken related to your activity induce high requirements in terms of quality of training and safety. Not to mention the need for traceability and optimization of the maintenance of the machine park.
You are therefore looking for quality of instruction (people, method), quality of equipment and aircraft fleet, commitment to safety and high quality of instruction, optimization of operating and maintenance costs of the aircraft fleet.
Use flight data to better train your pilots while optimizing safety and operating costs
iAero is developing a complete and original solution for recording and using flight data (data, audio and video). Unparalleled on the market, more than 100 flight parameters can thus be used and analyzed. In addition, thanks to its debriefing software, the APIBOX solution is ideal for training pilots and optimizing skills.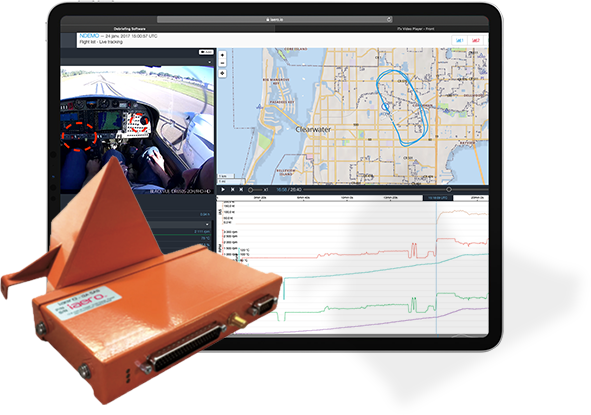 Increased efficiency of training and debriefing

Complete and optimized debriefing (video, audio and flight parameters)
The student is an actor, then a critical observer of his flight: optimal training efficiency

Optimized training costs


The quality of the debriefings makes it possible to optimize flight hours
Ground training is much more effective

Visibility on solo flights


realistic, objective and comprehensive debriefing
Easy troubleshooting and diagnosis


Decrease in the downtime of your aircraft
Reduction in maintenance costs linked to troubleshooting

Trend monitoring (alerts on parameters)


Identification of operating drifts
Anticipation of breakdowns and optimization of aircraft performance

You know exactly how your devices are used


Satellite tracking: real-time location and transmission of alerts on flight parameters
Reduced risk of incidents and accidents
Characteristics of the APIBOX solution
Data recording and processing solution (flight and parameters)
Recording of audio and video data
Digital and analog instrumentation compatibility
Designed for general aviation and military aviation
More than 100 flight parameters managed and usable
Over 1000 hours of recording
Real-time data transmission (GSM / Iridium)
Crash and fire resistant (follow ED-155)
Small size, weight among the lowest on the market (2.2kg)
Debriefing and data analysis software
Recording of audio and video data
Digital and analog instrumentation compatibility
Designed for general aviation and military aviation
More than 100 flight parameters managed and usable
Over 1000 hours of recording
Real-time data transmission (GSM / Iridium)
Crash and fire resistant (follow ED-155)
Small size, weight among the lowest on the market (2.2kg)
More than 100 parameters managed and restored
Motor

Inlet pressure
RPM, N1, N2
CHT / TRQ
EGT / TOT
Oil temperature
Oil pressure
Fuel level and pressure…
Barometry


Indicated speed
Pressure altitude…
Pilot / co-pilot


Audio pilot
Co-pilot audio
Pilot marker
Co-pilot marker…
Cell


X / Y / Z acceleration
Roll, pitch and yaw speed
Position of the trims
Alarm panel: oil pressure, low fuel level, alternator …
Outside temperature
Position of control surfaces …
3D trajectory


Latitude
Longitude
Altitude
Ground speed
Road
Date
Time…
Many military flight schools integrate the APIBOX: