Your activity, your needs
You are looking for a solution with high added value, easily valued in your integration offer, and relatively easy to integrate.
Integrate all equipment and avionics according to your customers' specifications and meet their flight data recording and geolocation requirements.
You also need a trusted, trusted partner on your side to deliver the integration service and meet your deadlines and commitments.
Offer a global solution for recording and using flight data and parameters, which can be integrated into any type of aircraft.
The APIBOX flight data recording and exploitation solution developed by iAero allows the integration of more than 100 flight parameters (data, audio and video) according to customer needs. iAero naturally has all the necessary approvals as well as a development and support team to guarantee the success of your installations.
IAero R&D can also take into account specific development requests.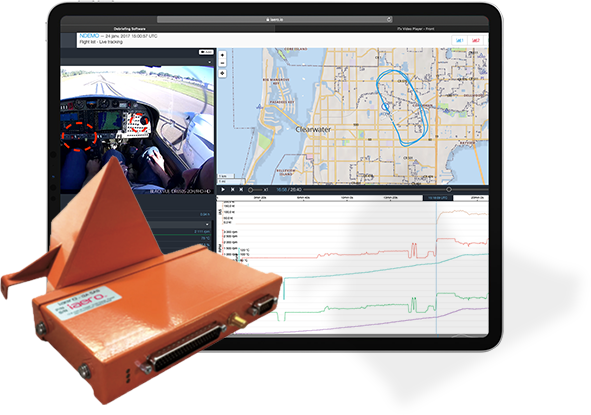 Added value for your customers from an operation and maintenance point of view
Recorder complying with the ED-155 standard:


anticipation of probable changes in regulations

Compatible on all types of aircraft
Integration of all types of data


data, audio, video
digital or analog

Lightweight, space-saving solution that is relatively easy to integrate into the general avionics of the aircraft.
iAero approvals


iAero approvals, guarantee of a certified, qualified solution
R&D team and iAero support
Many integrations already carried out in the world.
Test pilots to validate your integrations and development
Characteristics of the APIBOX solution
Data recording and processing solution (flight and parameters)
Recording of audio and video data
Digital and analog instrumentation compatibility
Designed for general aviation and military aviation
More than 100 flight parameters managed and usable
Over 1000 hours of recording
Real-time data transmission (GSM / Iridium)
Crash and fire resistant (follow ED-155)
Small size, weight among the lowest on the market (2.2kg)
Debriefing and data analysis software
Recording of audio and video data
Digital and analog instrumentation compatibility
Designed for general aviation and military aviation
More than 100 flight parameters managed and usable
Over 1000 hours of recording
Real-time data transmission (GSM / Iridium)
Crash and fire resistant (follow ED-155)
Small size, weight among the lowest on the market (2.2kg)
More than 100 parameters managed and restored
Motor

Inlet pressure
RPM, N1, N2
CHT / TRQ
EGT / TOT
Oil temperature
Oil pressure
Fuel level and pressure…
Barometry


Indicated speed
Pressure altitude…
Pilot / co-pilot


Audio pilot
Co-pilot audio
Pilot marker
Co-pilot marker…
Cell


X / Y / Z acceleration
Roll, pitch and yaw speed
Position of the trims
Alarm panel: oil pressure, low fuel level, alternator …
Outside temperature
Position of control surfaces …
3D trajectory


Latitude
Longitude
Altitude
Ground speed
Road
Date
Time…
Integrators from different countries have successfully offered APIBOX to their customers: