In the whole world
The APIBOX already equips more than 1000 aircraft around the world.
Grob, Diamond Aircraft, Robin, Pilatus, Daher-Socata, ENAC, the Air Force, the National Gendarmerie, Grob Asia,… trust us and have chosen the APIBOX…
And the APIBOX is suitable for all types of aircraft :
Example of devices already equipped, APIBOX installation with Form 1 :
Dassault Falcon 20
Airbus Helicopter AS350, AS365
Pilatus PC6
Grob Aircraft G 120A, G 120TP
deHavilland Canada DHC6-300
Socata TBM700
Socata TB 9/10/20/21/200
Cessna Soloy
Cessna 172/182/206/207/208
Zlin 242
Diamond DA40/42
Piper PA28
Robin DR400, CAP10
Extra 300
Beech1900D
Robinson 44…
(Non-exhaustive list)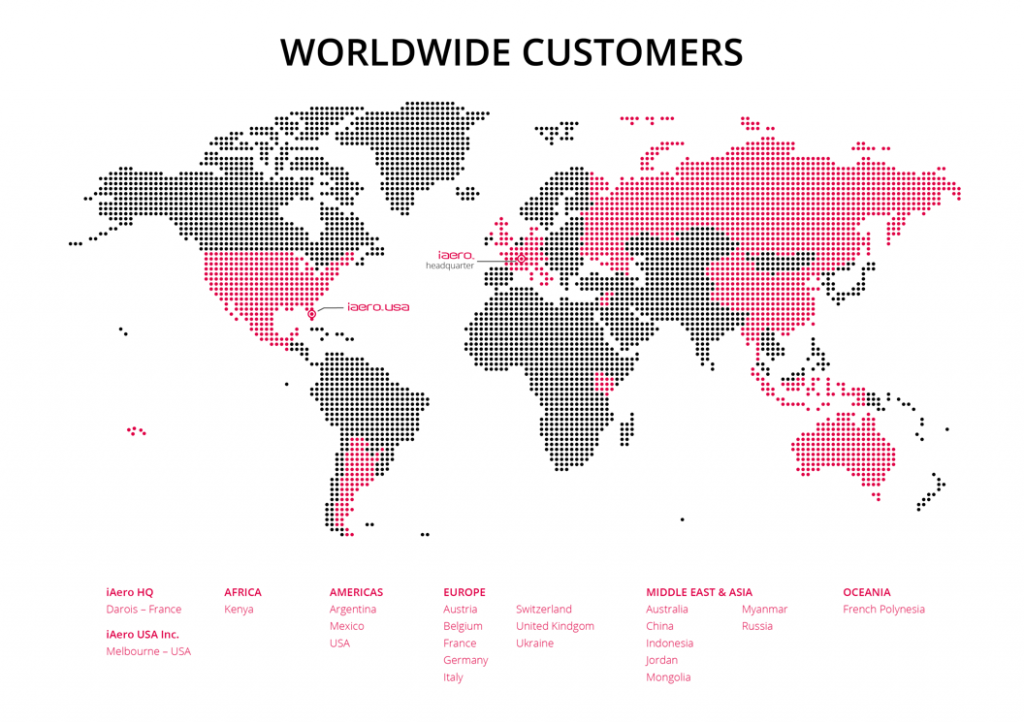 Our Installation partners
Our support and development team at iAero provides all the support and assistance needed by our clients
and installation partners / integrators / maintenance workshop for the installation and optimisation of our flight recorder APIBOX.
You can also trust them for all your APIBOX needs !
More iAero Partners and Refence Bodies
I2A – iAero also works in close collaboration with the following bodies and institutions for purposes of certifications, comittees on aeronautical security, or in the context of conferences as experts.
APIBOX can adapt to all aircraft, and meets the specific needs of each of our clients regarding the recording and the use of the flight data.
Airplane or helicopter manufacturers, aeronautical integrators, flight training schools, installers, workshops... They all trust us, and they adopted APIBOX.