Your activity, your needs
Reliability, safety and warranty management for your helicopters
The reliability of a helicopter, its smoothness of piloting, ease and maintenance costs are all major arguments that allow you to stand out in order to seduce your customers.
Yes, but how can you provide even more guarantees in terms of safety, and how can you protect yourself from costly and abusive recourse to the manufacturer's warranty, and be able to demonstrate what really falls under your responsibility?
Facilitate diagnosis by recording and using flight data
With iAero's APIBOX solution, more than 100 flight parameters can be recorded and analyzed (data, audio, video). This complete and original solution for recording and exploiting flight data is ideal both in the event of an event requiring a diagnosis and for warranty management, or performance analysis or anomalies in the service of R & D …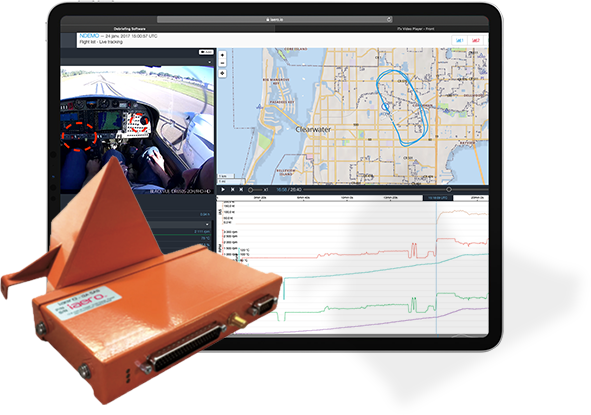 Recorder designed to comply with the ED-155 standard:


anticipation of probable changes in regulations

Data collection (datamining)


providing valuable information to R&D for the development of your aircraft

Rigorous and unstoppable management of warranty claims:


ease of diagnosis
detection of proven design anomalies
or improper use or maintenance of the aircraft.
Added value for your customers from a point of view:


operation and maintenance

Facilitation of management and apprehension


hours of maintenance visits
with identification of "moving" and "block / block" hours
Characteristics of the APIBOX solution
Data recording and processing solution (flight and parameters)
Recording of audio and video data
Digital and analog instrumentation compatibility
Designed for general aviation and military aviation
More than 100 flight parameters managed and usable
Over 1000 hours of recording
Real-time data transmission (GSM / Iridium)
Crash and fire resistant (follow ED-155)
Small size, weight among the lowest on the market (2.2kg)
Debriefing and data analysis software
Recording of audio and video data
Digital and analog instrumentation compatibility
Designed for general aviation and military aviation
More than 100 flight parameters managed and usable
Over 1000 hours of recording
Real-time data transmission (GSM / Iridium)
Crash and fire resistant (follow ED-155)
Small size, weight among the lowest on the market (2.2kg)
More than 100 parameters managed and restored
Motor

Inlet pressure
RPM, N1, N2
CHT / TRQ
EGT / TOT
Oil temperature
Oil pressure
Fuel level and pressure…
Barometry


Indicated speed
Pressure altitude…
Pilot / co-pilot


Audio pilot
Co-pilot audio
Pilot marker
Co-pilot marker…
Cell


X / Y / Z acceleration
Roll, pitch and yaw speed
Position of the trims
Alarm panel: oil pressure, low fuel level, alternator …
Outside temperature
Position of control surfaces …
3D trajectory


Latitude
Longitude
Altitude
Ground speed
Road
Date
Time…
Manufacturers provide the installation of the APIBOX as original equipment or as an option: