A recording
and exploitation solution
APIBOX is a recording and operating (FDM) solution for flight data and parameters (data, audio and video) designed and developed entirely by iAero. The solution is dedicated specifically to light aviation and rotorcraft and in particular to pilot training. But not only…
An unique solution on the market composed of :
A modular hardware part (recording and "black box" function)
A flight data analysis software

A flight debriefing and analysis application
Its development was launched in 2005 and its first EASA approved installation was carried out in 2007 on a Grob 120.
Namely: version 2 of APIBOX gave birth, through the BEA, to the ICAO working group that defined the ED-155 standard … *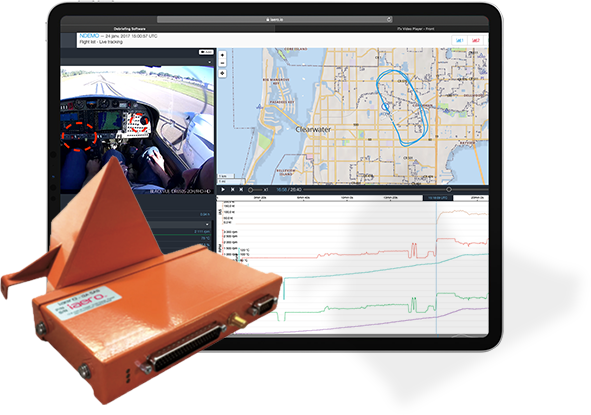 Characteristics of the APIBOX solution
Data recording and processing solution (flight and parameters)
Audio and video data recording
Digital and analog instrumentation compatibility
Designed for general civil and military aviation
More than 100 flight parameters managed and usable
Over 1000 hours of recording
Real-time data transmission (GSM / Iridium)
Crash and fire resistant (ED-155 standard compatibility)
Small size, weight among the lowest on the market (2.2kg)
Debriefing and data analysis software
Data analysis and exploitation software
Analysis with graphic visualization
Selection of data to be used
Customizable display modes
Standard export of parameters
Management of audio / video information
Synchronization of multiple cameras
Web access to his flight data by the pilot
Already more than 850 APIBOX installed
More than 100 parameters managed and restored
Motor

Inlet pressure
RPM, N1, N2
CHT / TRQ
EGT / TOT
Oil temperature
Oil pressure
Fuel level and pressure…
Barometry
Barometry

Indicated speed
Pressure altitude…
Pilot/co-pilot

Audio pilot
Co-pilot audio
Pilot marker
Co-pilot marker…
Cell

X / Y / Z acceleration
Roll, pitch and yaw speed
Position of the trims
Alarm panel: oil pressure, low fuel level, alternator …
Outside temperature
Position of control surfaces …
3D trajectory

Latitude
Longitude
Altitude
Ground speed
Road
Date
Time…
Additional analog and digital inputs can be integrated according to your needs
* The International Civil Aviation Organization (ICAO) has defined and validated the specifications of a lightweight flight recorder for the affected aircraft. This standard, called ED-155, precisely defines all the technical and operational specifications of these recorders. It should gradually come into effect from 2021.